Holy Moses on Steriods, Batman! Things are getting more interesting, just in time for the arrival of Autumn.
New Hours
Effective Monday, Oct. 2, 2023, we're permanently changing our hours. We'll be open Monday through Friday starting at 7 a.m. We close at 3 p.m. on every day except for Wednesday, when we close at 7 p.m.
Special literary events are welcome on Wednesday evenings. Although the store won't normally be open on Saturdays, we also hold events on Saturday afternoons or evenings.
This change is intended to promote the "and Coffee" part of the business. Our previous hours missed both the morning and evening rush. With the new, more enticingly placed Table o' Snacks and Beverages, we hope more folks will drop in for a quick to-go cup ... or to stick around, sip, savor, and browse the stacks.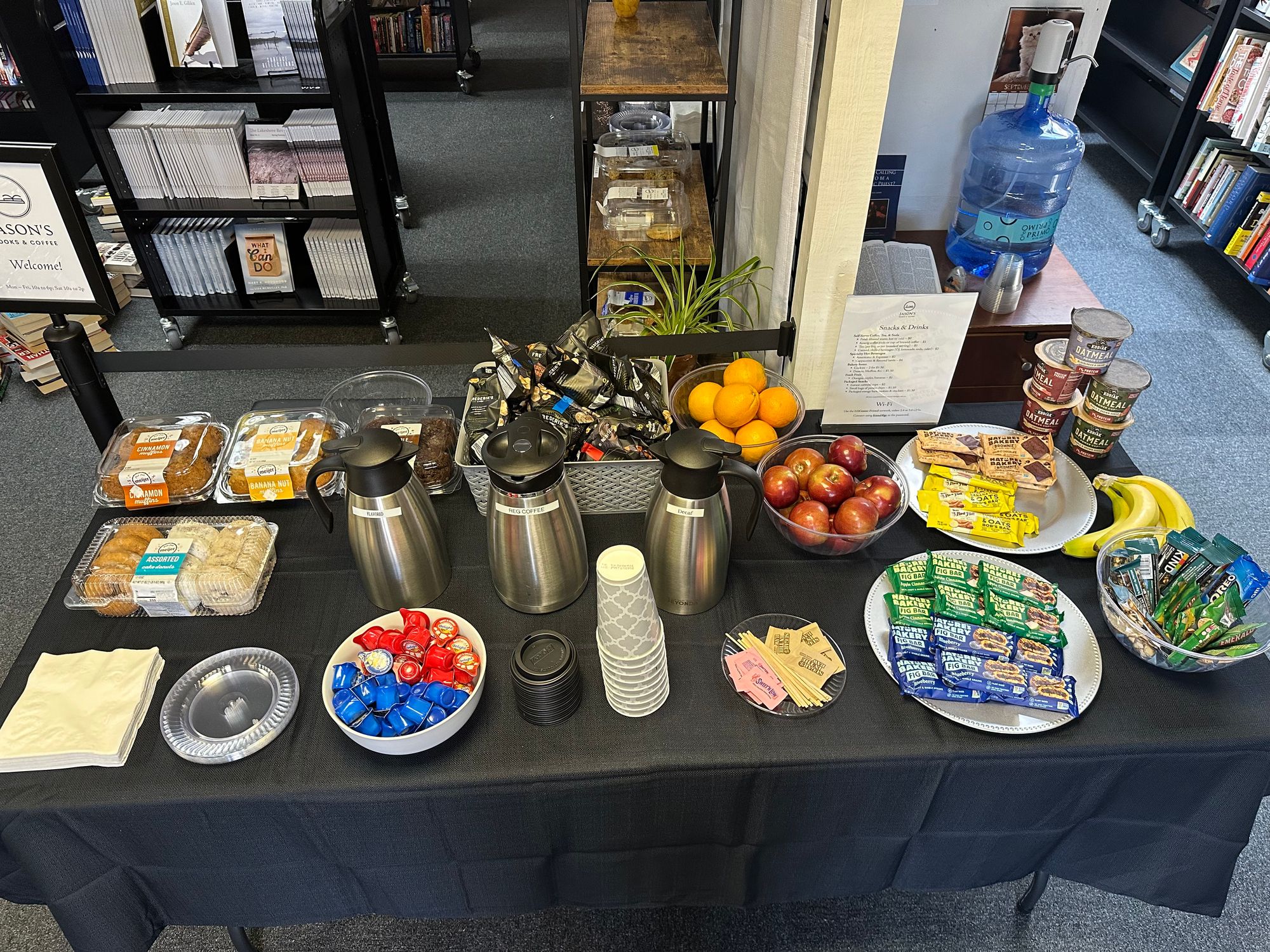 Used Books
We've been buying a lot of used books lately. Which is great! We're now changing the way we handle used-book buybacks. Check out our Used Books page for full details. The biggest things are: (a) we need roughly two days to inspect the books, to inventory them, and to prepare payment; (b) we're changing to a sliding-scale between $0.50 and $2.50 per book depending on the volume; and (c) we're not going to accept duplicates of what we already have, or books with out-of-date information about health-related matters, or any book promoting a political or religious conspiracy hypothesis.
Speaking of books, our inventory is something to behold. Librarians and taxonomists, prepare to nerd out!
Cart A: Kids' series (85 books) and audiobooks (21)
Cart B: Kids books (139) and C.S. Lewis (44)
Cart C: Poetry & Lit Fic (66); Sci-Fi (126)
Cart D: Fantasy (132)
Cart E: Romance (101)
Cart E/F: Thriller & Mystery (250)
Cart H: Religion (209)
Cart I: Biography & Memoir (71); History (84)
Cart K: Reference & Philosophy (81)
Shelf Y: Contemporary Fiction (118)
Shelf Z: Traditional Classics (114)
That brings us to more than 1,700 used books on site, if we add the "intake, unsorted, and misfiled" shelves on Cart J and the additional duplicate C.S. Lewis titles in a box in the storage room.
And you can't forget Cart G, which is Lakeshore Literary's small-press titles plus The Lakeshore Review literary journal!
It's a great time to drop by Jason's Books and Coffee. If you mention reading this blog post, we'll give you 10 percent off your total order through the month of October.